July 2018
| Mon | Tue | Wed | Thu | Fri | Sat | Sun |
| --- | --- | --- | --- | --- | --- | --- |
| | | | | | | 1 |
| 2 | 3 | 4 | 5 | 6 | 7 | 8 |
| 9 | 10 | 11 | 12 | 13 | 14 | 15 |
| 16 | 17 | 18 | 19 | 20 | 21 | 22 |
| 23 | 24 | 25 | 26 | 27 | 28 | 29 |
| 30 | 31 | | | | | |
Calendar

Who is online?
In total there is
1
user online :: 0 Registered, 0 Hidden and 1 Guest
None
Most users ever online was
27
on 2013-07-02, 10:29

Hi everyone, I hope you all had a good Christmas and New Year!

We're starting an open league which will allow everyone to see their team progress as well as play as many games as they want. Nothing stops for playing a few games with a team, and if you don't like the race, start a new team; or even starts a few teams at the same time...

During the year Frank will like every year, reorganise his BRGA league as well and depending on what the rules will be, you should be able to use a team with a bit of experience too, so playing on Open should give you some experience as a coach, for your team, and will help you choose the team that suits you best for the Big League!

Teams will be 1 million GP and you can create them yourselves on the Stunty Leeg website (quick tutorial will follow) or you can ask a league commissioner to do this for you.

For every match you play, you will need to contact one of the league commissioners (I believe there is Frank, Gary and me so far) who will "create" the game on the website. You can either enter the results yourselves on the website (if you know how it works) or fill a form available in the Blood Bowl box at the club and a league commissioner will enter the results.

League commissioner will be responsible to check any spiralling expenses that will be taken off the team's winnings, so don't rush spending your money, there might be some adjustment for the experienced teams.

Once the results are in, you can manage your team as you wish (or you can ask a commissioner to sort this out for you)

We wanted to make things easy and leave as much freedom and control for all of you, so we are trusting all players to enter the results properly. Please, it woulmd be a shame to see things like "my wardancer just died, do you mind if we just skip this?", or "the MVP is my dead player, can I roll again?"

Good luck everyone!

Johnny KTOU

LVL 6 Augmented Cyber Goblin





Posts

: 694


EXP

: 3907


Join date

: 2010-07-08

Character sheet


Class

:

Mankini Wearer




Race

:

Human




HP

:


(10000/10000)



To create a team:
1 Select Coach Corner
2 Create New Team
3 Enter the name of the Team
4 Chose the Race of your team
5 Select the "League BRGA" from the Drop Down List
and then press the button "Create"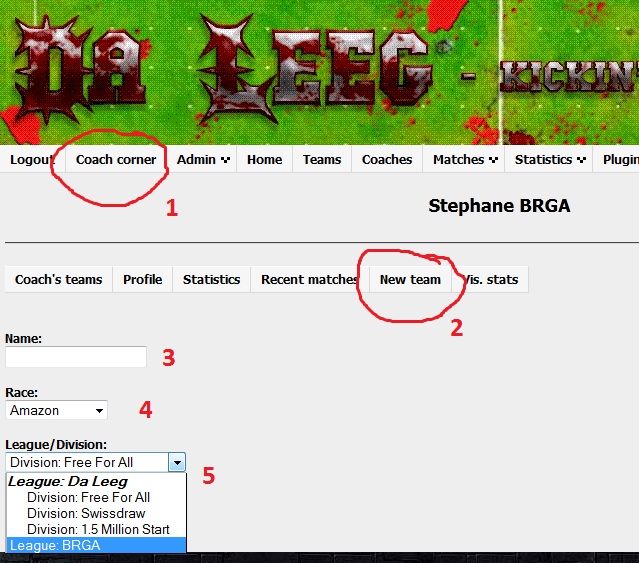 For the team management, go to Coach Corner, select the team you want to manage and use the "Team Management" box. Be very careful, once something is bought or chosen (fan factor, rerolls, players, skills....), you can NOT get a refund (only an admin can do this), so chose carefully and do this slowly please.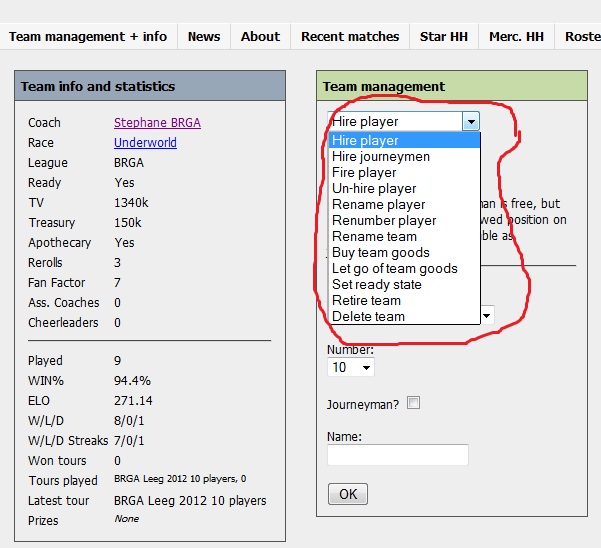 If you need more help, let me know; I can show you at the club or just do more tutorials.

Johnny KTOU

LVL 6 Augmented Cyber Goblin





Posts

: 694


EXP

: 3907


Join date

: 2010-07-08

Character sheet


Class

:

Mankini Wearer




Race

:

Human




HP

:


(10000/10000)



Quick tutorial on how to fill a match sheet on the Stunty Leeg website. Both players should keep record of everything and although one person should fill in, the other should double check to avoid any mistake.
First go to "Matches3 --> "Tournaments", find your match (if you can't find it, ask a league commissioner) and press "View" or "Edit"
1 Fill in the score
2 Gains
3 Fan Factor modifier
4 FAME, Spectators, total casualties are optional
5 DO NOT TOUCH SPORTSMANSHIP POINTS!!!!
Then you get to the SPP and injuries for your players. On the example below:
player 4 is MVP
player 6 and 8 scored a touchdown each
player 6 got injured, will miss the next game and suffers a niggling injury
player 11 got injured and will miss the next game
BH means Badly Hurt caused
SI are the Serious Injuries caused
Ki are the number of players killed
CP, Completion Points are the number of passes completed
Int, Interceptions
Ignore the Ageing part.
Do the same for the other team, add a comment if you want to, and press SAVE at the bottom of the page.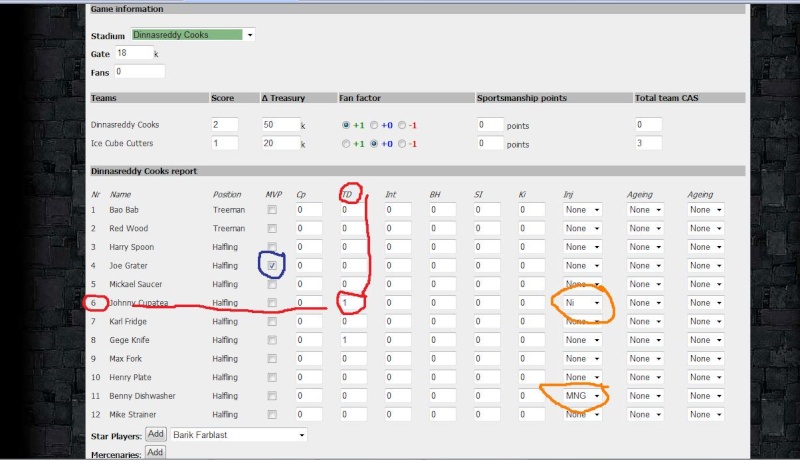 Johnny KTOU

LVL 6 Augmented Cyber Goblin





Posts

: 694


EXP

: 3907


Join date

: 2010-07-08

Character sheet


Class

:

Mankini Wearer




Race

:

Human




HP

:


(10000/10000)





Similar topics
---
Permissions in this forum:
You
cannot
reply to topics in this forum